About Dr Crispin Thompson
Dr Crispin Thompson is a specialist spinal neurosurgeon. He studied in Durban, Cape Town and the United Kingdom and has accumulated experience in the management of complex spine pathology, including degenerative spinal conditions, trauma of the spinal column and spinal cord, infections of the spine and tumours of the spinal column and spinal cord.
His private practice is based at the Mediclinic Milnerton and he provides part-time neurosurgical support at Groote Schuur Hospital.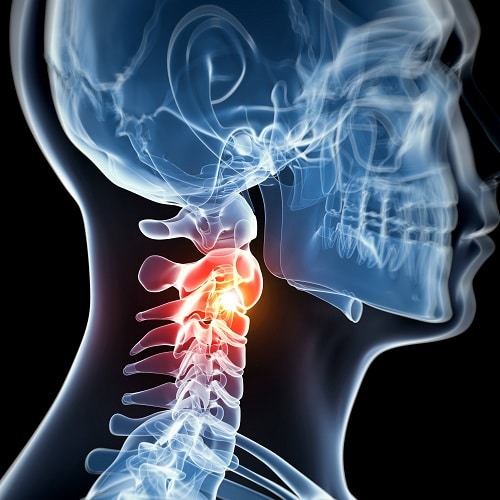 Anterior Cervical Discectomy & Fusion
This operation is usually performed for degenerative disc disease of the cervical spine, however, is also a very useful surgical management strategy for cervical spine trauma. The degenerative, or injured, intervertebral disc results in a combination of reduced structural integrity and neurological compromise. 
Posterior Cervical Decompression
Advanced degenerative changes can result in a narrowing of the cervical spinal canal and compression of the spinal cord. This leads to progressive loss of function within the spinal cord. Approaching the spine from the back of the neck allows us to remove the vertebral arch and create additional space for the spinal cord through cervical decompression.
Lumbar Discectomy
Degenerative changes within the intervertebral discs of the lumbar spine can result in compression of an exiting lumbar nerve root. The problem can be addressed surgically by approaching the lumbar spine from behind and removing the offending disc material. The bulk of the intervertebral disc is left in position in order to preserve normal function.
Lumbar Decompression & Fusion
Advanced degenerative changes within the lumbar spine can result in a combination of structural and neurological compromise. Spinal stability is adversely affected and results in a significant degree of back pain. Nerve root compression and compromise results in a combination of pain, altered sensation and weakness in either or both legs.
Quality Hospital Care
Private healthcare with a team of medical experts who offer expertise you can trust.
Cutting-edge Medical Equipment
Latest in medical innovation and technology for faster recovery.
Onsite Pharmacy
Conveneince and affordability with your take-home medication.

Expert Medical Team
Team of experts who work together to help find solutions to medical ailments. 

24/7 Ambulance Coveage
Partnering with ER24, your access to our medical team is faster and more convenient.

Internationally Trained
Get access to a medical team with over 35 years of medical training obtained throughout the world.
Number of Patients Treated
A FEW OF OUR TRUSTED REVIEWS
"I am forever grateful to Dr Crispin Thompson for what he, with his medical knowledge, achieved with my back. I have never had any back pain since my accident."
- Philip
"Dr Thompson was my medical support structure through my healing. We forged a bond that I learnt to rely on to retain my positive outlook. I think his transparency with regards to what and why this happened to me, his positive feedback and support played a major part in my recovery. I would never have been able to do this without his support and patience. Thank you Dr Thompson."
- Belinda
"Dr Thompson is very approachable and knowledgeable. He is prepared to spend time going into great detail explaining what the problem is, how to fix it and about the surgical procedure. Dr Thompson spent time explaining to my wife how the surgery had gone and putting her mind at rest. She told me later that she had felt greatly comforted."
- Ian
021 529 9351
Mon-Thu: 8:00-16:00
Fri: 8:00-15:00
After-Hour Emergencies: 021 529 9000
All appointments will be confirmed telephonically
CONTACT INFO
E: enquiries@crispinthompson.co.za
T: 021 529 9351
P: Room 183 Mediclinic Milnerton,
Racecourse Rd, Milnerton, Cape Town, 7441
Mon-Thu: 8:00-16:00
Fri: 8:00-15:00